Unveiling the TikTok Product Roadmap 2023: New Features and Innovations
---
TikTok continues to evolve its advertising offering and provide exciting opportunities for brands. The TikTok Product Roadmap for 2023 promises a host of innovative features and tools designed to empower advertisers and enhance their campaigns. 
Here are the top 8 features announced by TikTok, that will shape the advertising landscape.
1. Media Planning: Enhanced Targeting and Benchmarking
TikTok recognizes the importance of effective media planning. The platform now offers advertisers valuable audience insights, enabling them to make data-driven decisions. With the ability to input specific parameters such as budget, region, and age, advertisers can obtain results based on benchmarks, optimizing their campaigns for success.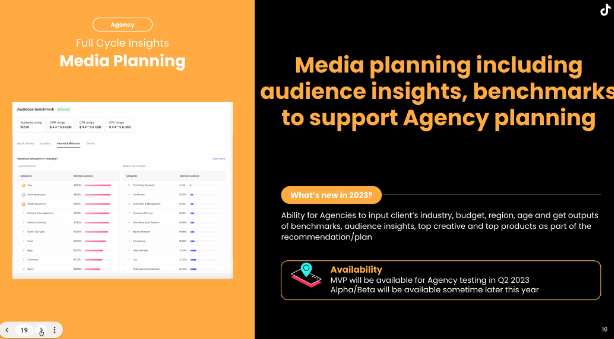 2. Lead Ad Formats and Destinations
TikTok introduces a new lead ad format that incorporates clickable destinations for users to access more information. This innovative feature offers options like click-to-message or click-to-call, providing seamless interaction between brands and potential customers, resulting in improved lead generation.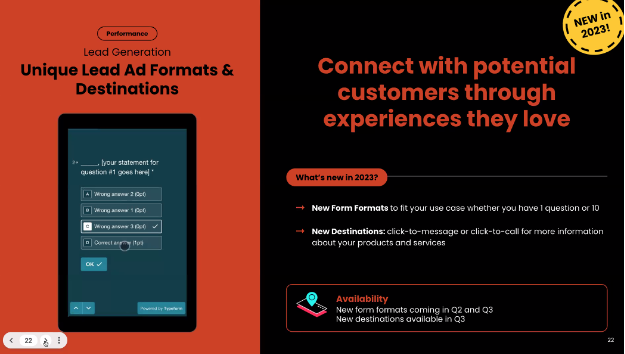 Objectives for Lead Generation Campaigns
Building on the instant form feature, TikTok now provides the option to direct users to a website to select the appropriate form type based on campaign objectives. This integration streamlines the process, allowing for a range of actions, including form submissions, button clicks, content views, registrations, contacts, and more.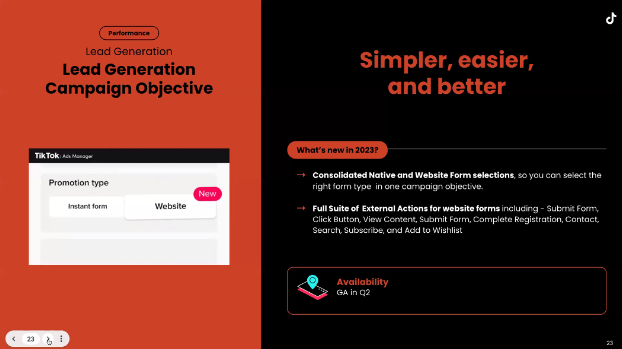 3. Smart Performance Campaigns
Simplicity and comprehensive automation take center stage with TikTok's Smart Performance Campaigns. Leveraging machine learning capabilities, advertisers can optimize campaign performance and achieve marketing goals seamlessly. This innovative approach empowers brands to maximize their advertising impact while minimizing manual efforts.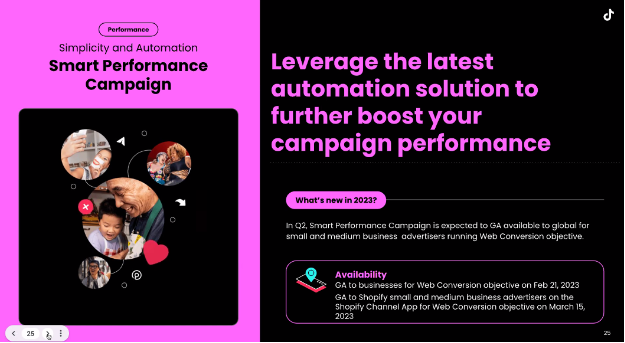 4. Search Ads for Enhanced Visibility
TikTok's search ad functionality now enables businesses to bid on specific keywords and phrases related to their products or services. This development allows for more comprehensive ad targeting, enhancing brand visibility and reaching potential customers actively searching for relevant offerings.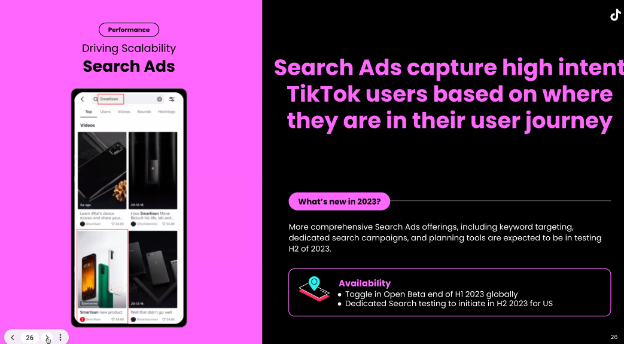 5. Targeting the Right Audience
With TikTok's refined targeting capabilities, advertisers can now segment their audience based on factors such as zip codes, high purchasing power, and internet service provider orientation. This precision targeting ensures that campaigns reach the intended audience, optimizing engagement and conversion rates.

6. Draft Mode for Flexible Campaign Creation
The introduction of Draft Mode empowers advertisers to utilize their time more flexibly when creating campaigns and ads. This feature allows for efficient planning and refining of creative elements, ensuring campaigns are launched at the most opportune moment.
7. Engage to Business Page: Amplify Your Brand Presence
TikTok aims to enhance brand visibility and engagement with the Engage to Business Page feature. Advertisers can now highlight their business information by adding their website, contact details, and app download links. Moreover, they can showcase their products through a photo gallery, encourage users to share their information directly from their profile, and leverage videos and live streaming to captivate audiences.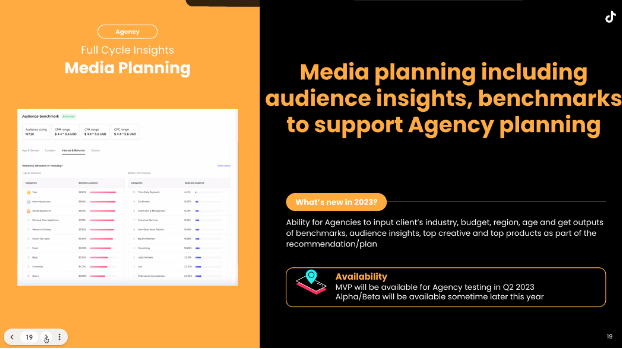 8. Community Engagement Made Easy
TikTok simplifies community interaction by introducing a unified interface for direct messages (DMs) and comments. Advertisers can now respond seamlessly to all interactions within one interface, fostering stronger connections with their audience.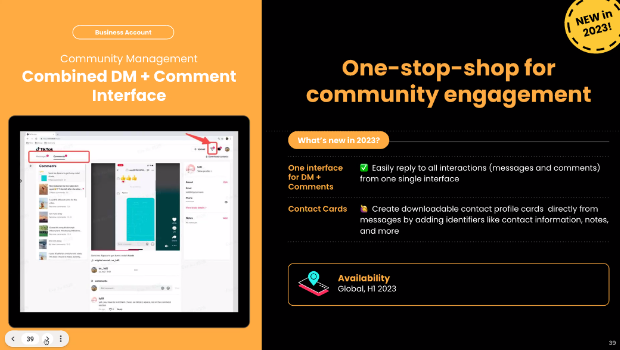 TikTok's Product Roadmap for 2023 presents a wealth of possibilities for advertisers. By harnessing these new features and innovations, brands can elevate their marketing strategies and captivate audiences on one of the world's most popular platforms. Embrace these advancements and unlock your brand's full potential on TikTok.
Remember, success in the ever-evolving digital landscape requires staying informed and embracing innovation. TikTok is here to empower your brand's journey toward remarkable advertising achievements.