We build meaningful connections with consumers across the digital ecosystem, developing culturally-relevant, data-driven solutions.
Strategic Digital Agency
We audit, benchmark, analyze, plan, create, design, test, and optimize to make your brand's presence and business value grow. All with a senior team that has been executing since the early 2000's.
Digital Transformation Consulting
We have helped tens of media & entertainment brands in their digital transformation needs through an audit, strategy, planning, media, and organizational consulting process.
Our interdisciplinary team will provide thoughtful research, comprehensive digital strategy, tactics and detailed game plans, and user-centric communication solutions to make sure you are ready to tackle the shifting needs of your audience.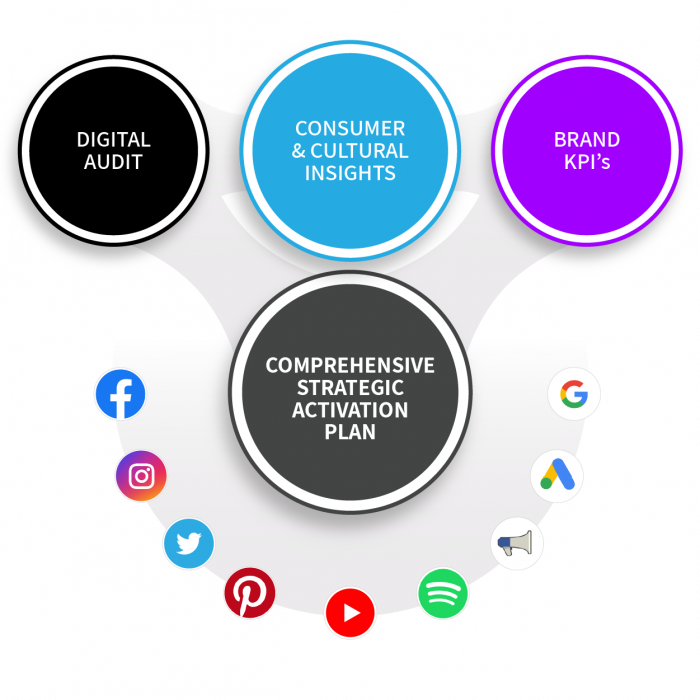 Strategy
Marketing Research & Strategic Planning
Digital Strategy
Social Media Strategy
Paid Media Strategy
Monetization
Creative
Integrated campaigns
Multicultural
Ads Creative
Video editing
Copywriting & Graphic Design
Production
Content Strategy
Content planning & production
Community management
Analytics
Influencer marketing
Event coverage
Media planning
Social, search, video
Programmatic
OTT, Connected TV, Roku, Pluto TV
Retargeting
In-game Video Advertising
Performance Marketing
Reporting
Performance Marketing
E-commerce
Lead generation
Web development
Search Engine Optimization (SEO)
Email Marketing (CRM)
Marketplaces (Amazon, MercadoLibre)
Reviews Strategy
Consulting
Digital transformation
Paid Media Audits
Digital Audit & Benchmarking
Brand strategy & research (w/partners)