The Streaming Wars: Who will lead the SVOD world? Netflix vs Disney vs Amazon
---
When AOL founder Steve Case first acquired Time Warner twenty years ago, he also predicted that media convergence would be the next technological phenomenon. The idea that content would be distributed digitally and that we would be able to access it through multiple platforms and devices felt, at the time, like a far-off reality. But today, it has become the norm - shaking the industry and taking the entertainment battle to an entirely digital level.
Netflix might have been the pioneer and leader of video streaming for the past few years, but no more. It now has to face the threat of a growing number of competitors who have found in SVOD (and AVOD) an opportunity to adapt and grow their businesses. From Amazon to Disney, NBC to Apple, Hulu to HBO Now, and even YouTube TV and PlayStation Vue, the current US SVOD landscape includes a range of early digital innovators, tech giants, and traditional entertainment names.
But, as we begin to see the signs of a saturated market, one question grows imminent: how many subscriptions will a household be willing to pay for? The stage is set for the so-called "streaming wars," and it's now only a matter of time until we can determine winners and losers.
There are a few possible scenarios:
Netflix's experience will triumph
With an established subscriber base of 73M in the US and 185M worldwide, and a global, experienced team, Netflix had plenty of time to get its ducks in line before traditional media took to the digital stage. And because it understands what users want and the way they consume content, it knows how to efficiently reach its consumers.
Netflix has, in fact, effectively shaken culture: first by offering a vast and ever-changing library of both movies and series, and later by releasing its own top-trending content throughout the world. It's a phenomenon that could only be compared to the BigMac fever of the 70's - the entire world was eating it. Now, all the world wants to consume is the latest "Netflix original."
The industry's veterans will succeed
It's the case of platforms such as Disney++ or NBC's Peacock, which started off with the experience and know-how already acquired throughout their entire trajectory in traditional entertainment. But, their real advantage comes with about 50 years of original material.
While Peacock features roughly 13,000 hours of NBCUniversal content, Disney+ counts with a century-old archive of titles. And most of them are iconic, such as the entire Marvel Universe and the Star Wars saga with its endless spin-offs, as well as all of Pixar's and some of the 20th Century Studios' content. Neither NBC nor Disney need to spend money on content at the $8Bn per year Netflix pace at the $8Bn per year Netflix pace, and this automatically positions both as tough competitors, however late they were to jump in the game
The tech giants will become SVOD giants
In the meantime, Amazon's silent success is something to watch for. With 150 million Amazon Prime subscribers, Prime Video now claims the competitive number two spot in the U.S. streaming war. And Amazon plays it differently too, by making Prime Video a free feature of the Prime membership. Access to Amazon's Emmy-winning library becomes another perk of being a subscriber and yet another reason to stick to it. But it also means that, unlike Netflix, Amazon Prime Video does not depend on the success of its content alone to survive.
And while giants like Apple and Disney also run a multi-faceted business model, where movie streaming is just a small portion of everything they have to offer, Amazon's true advantage is in the data it collects. Our shopping habits, our product ratings, our age group, and location. Amazon has a thorough understanding of how we spend our money and it puts that to good use: what we watch becomes another piece of information on how to integrate, optimize and maximize our experience with it.
AppleTV+, on the other hand, has struggled to solidify itself as a player in streaming media. And that's despite its reputation as an early-innovator, cemented after the success of Apple Music.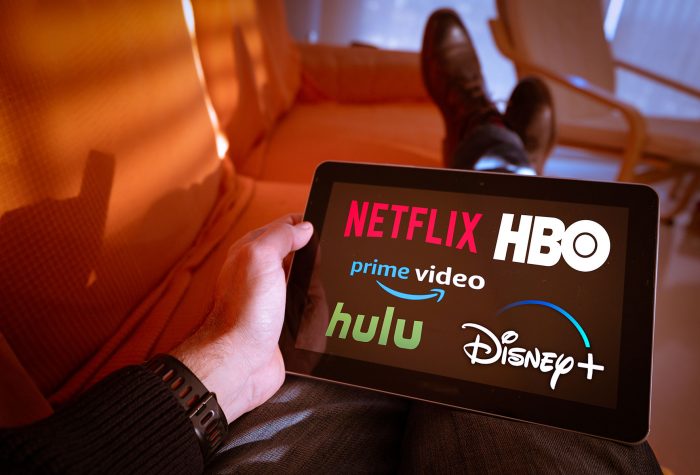 The problem with its model this time around is that there's absolutely nothing setting the AppleTV+ service apart from the other streamers: the exclusive content it offers is no match to Disney's or HBO's and it has few original shows to make it worth the subscription. Especially when compared to Netflix, who in 2019 alone released more original content than the entire TV industry in 2005. Apple might be a tech giant, but it is not a production powerhouse.
And while money was never an issue for Apple, it is worth noting that what started as a $1 billion investment is now a $6 billion endeavor, and, as of the end of 2019, AppleTV+ revenue was still "immaterial to our results," as Apple's CFO Luca Maestri put it himself.
Of course, Apple is known to shake things up once in a while and still has time to do so with AppleTV+ - if it starts acting now.
The streaming race is already on, though it is still too early to call winners and losers. The reality is that, with 66% of the US population subscribing to at least one video streaming platform, the decision of who will dominate is up to the consumers. And, when switching costs nothing, earning that consumer loyalty will be all that matters.
For the companies, thriving will mean understanding how to retain their customers, rather than acquire them.
One thing is undeniable, however. The streaming wars are changing the landscape and, as the race goes global, the need for innovation will be crucial.