American Girl Fans: It's time to make your own YouTube movie!
---
Fresh original content from InPulse Digital and American Girl connects with fans in the creation of their own Stop Motion YouTube videos
MIAMI, October 19, 2015 – InPulse Digital Marketing, an independent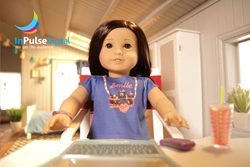 digital content marketing and social media agency, is pleased to announce "Z's Crew", a short form video content program about making stop motion films for global fans of American Girl.  In partnership with American Girl, InPulse Digital developed an original 10-episode stop motion animated series, starring an all-new AG vlogger character named Z, for the official American Girl YouTube Channel. "Z'sCrew" is a first of its kind for the popular brand and connects the passions, interests and originality of American Girl fans, inspiring them to contribute their own creative expressions using their favorite American Girl dolls. "The intense fandom of American Girl was a great source of inspiration for us at InPulse. We believe these devoted followers deserved new and creative ways to share their own stories of how they interact with their dolls. This American Girl project plays to our strengths as a content-driven digital and social media agency," said the Founder & CEO of InPulse Digital, Diego Prusky. Since September 3, 2015, American Girl has been reaching out to its fans on YouTube and social media by releasing weekly original short stop motion animation episodes as examples of original storytelling content to stimulate and inspire American Girl fans' own creativity.  Fans have responded with great excitement, sharing hundreds of original stop-motion videos featuring their own dolls, and joining the conversation surrounding every new episode of "Z's Crew", with the hashtag #AGZcrew. "InPulse's digital and social media expertise delivered the kind of content that reflects the spirit of our fans, many of whom are already active and engaged on YouTube, creating their own amazing AGSM (American Girl Stop Motion) videos", said Julia Prohaska, Sr. Director of Global Brand Marketing of American Girl. "This new program allows us to champion our fans' creativity through our new vlogger character Z and fosters a connection with others. We're delighted to see the engaging stories our fans are creating!" The ongoing series is now available at: www.youtube.com/AmericanGirl
About InPulse Digital:
Founded in 2004, InPulse Digital is a global, independent agency known for excellence in multi-platform digital content marketing, social media strategy, and execution for specialized brand segments ranging from entertainment, media to kids. InPulse Digital is one of the first digital and social media agencies that developed bilingual web and app development and bilingual social media asset management for Latin America and the US Hispanic media and entertainment brands. InPulse Digital has 3 offices—Miami, Montevideo and Buenos Aires, with a complete team of digital natives who specialize in non-linear content creation, curation, production, social media publishing, and digital media planning and buying. InPulse Digital clients include Mattel, E! Entertainment, Canal Sony, Azteca America, Food Network, Universal Music, Sony Music, recording artists, global soccer superstar Rafa Marquez, and kids' iconic properties Barney and Strawberry Shortcake, among others.
About American Girl:
American Girl is a premium brand for girls and a wholly owned subsidiary of Mattel, Inc. (NASDAQ:MAT, www.mattel.com), the worldwide leader in the design, manufacture, and marketing of toys and family products. Headquartered in Middleton, WI, American Girl offers an inspiring world of dolls, experiences, and entertainment to empower and unite girls of all ages. Best-selling lines include Truly Me™, Girl of the Year™, Bitty Baby™, and the classic historical character line BeForever™. The company sells products through its award-winning catalogue, on americangirl.com, in its experiential retail stores nationwide, and in specialty boutiques at select Indigo™ and Chapters™ in Canada and El Palacio de Hierro locations in Mexico City. American Girl's mission is to fuel belonging and connection among girls, a goal that has already earned the loyalty of millions and the praise and trust of their parents and educators. To learn more about American Girl or request a free catalogue, call 1-800-845-0005 or visit www.americangirl.com, www.facebook.com/americangirl, or www.twitter.com/american_girl.
CONTACT:
Julie Parks, American Girl 608-830-4631 Julie.parks(at)americangirl.com Elisabeth Bohlmann, InPulse Digital 305.400.4282 elisabeth.bohlmann(at)inpulsedigital.com -- Press release onPRweb