2019 Digital Advertising In Numbers
---
In a trend that seems irreversible, the investment in digital advertising in 2019 will surpass spending on traditional media reaching $129.34 billion, a 19% increase over 2018. The shift of the audience towards digital platforms has forced advertisers to focus on the digital scenario to the detriment of investment in traditional media.
Mobile advertising will totalize $87.06 billion, representing two-thirds of the total investment.
The duopoly Facebook - Google will continue monopolizing the spend on advertising with almost 60% of the market, although for the first time it's market share will decrease as a result of the emergence of new players such as Amazon and programmatic advertising.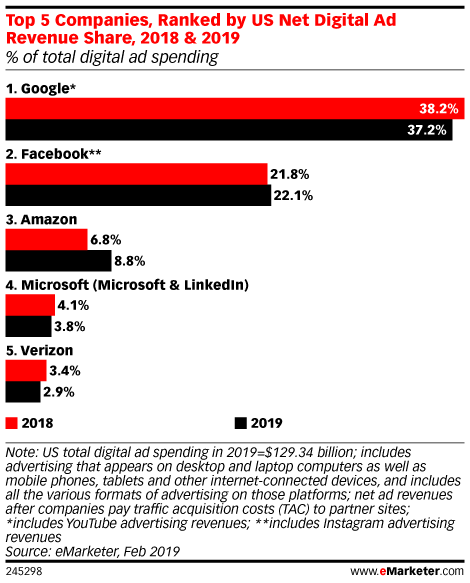 Amazon continues its expansion in the digital advertising business, and after recently surpassing Microsoft and Verizon, in 2019 it will account for 8.8% of the market, consolidating itself as the third contender.
The spend on programmatic advertising will total $59.45 billion and two-thirds of the investment will go to mobile, while video content will receive 1 of every 2 dollars invested.