InPulse Digital Top 5 social media content
---
5 - Father's Day on AXN
In many countries of Latin America, Father's Day was celebrated on June 21st. A very useful resource is to associate the characters of the different shows with everyday events from daily life. This time, we used one of main characters from AXN's NCIS and his fictional father to celebrate this day.
4 - Emotional memories in Entertainment
For the entertainment section of the US-Hispanic network Azteca US, an intense emotional tone isn't always the most suitable for the type of content. However, some celebrities generate so much devotion, it is worth it. In this case – in which the objective was to increase traffic to the client's website- we used a very special article about the 15th birthday of the daughter of the late Mexican singer Valentin Elizalde for the show 'Ventaneando'. Users echoed the news, sharing and commenting, but specially reading the complete article on Azteca US website.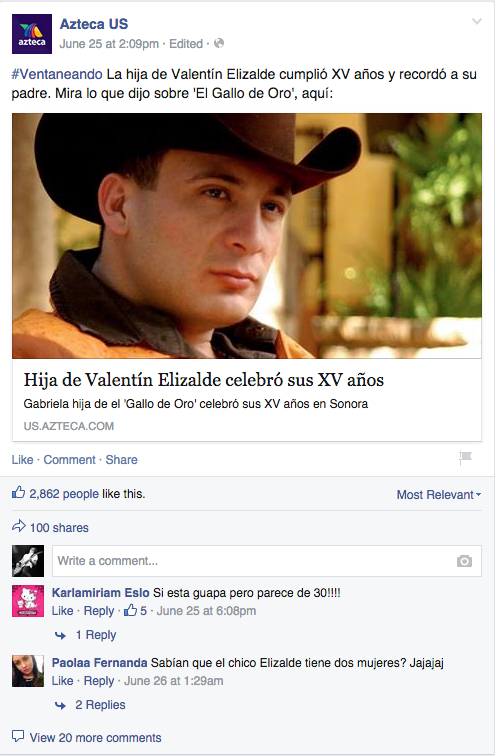 3 - Yoga + Adam Levin = Canal Sony Success
If there's a celebrity that can break Canal Sony's networks, that's Adam Levin, that's why he's our number 3. We have proof that when we use some of Canal Sony's celebrities in everyday activities, fans feel identified. Maroon 5 singer is the client's biggest star, so we had to ask: Would you like to have him as your yoga instructor?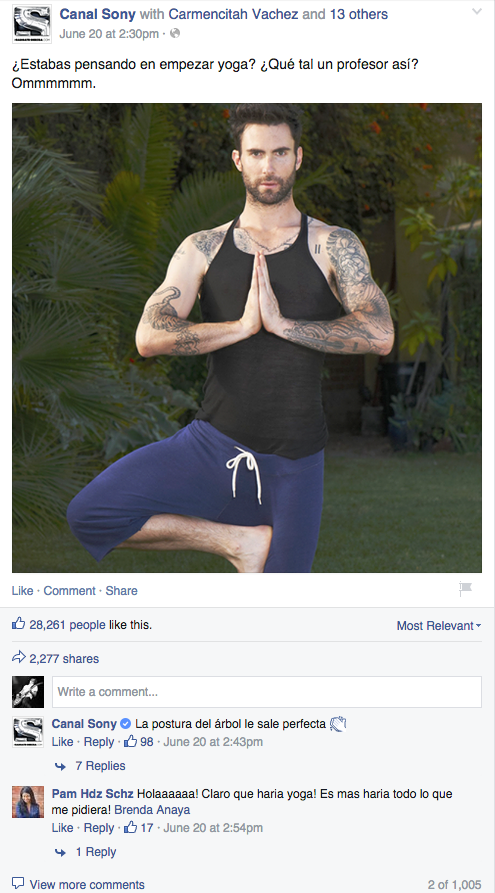 2 - Getting to Millennials on Father's Day
To create content for Father's Day on Canal Sony, first we put some thought into the client's audience on Facebook – in this case millennials- and how to make them feel identified with the brand. One phrase that has come out from every father's mouth seemed the like the perfect content to make the young ones grin. We took it up a notch with a nice emotional and hip image and copy inviting fans to share their own stories with their father figure. Fans gave us almost 200 very funny responses taking this post to number 2.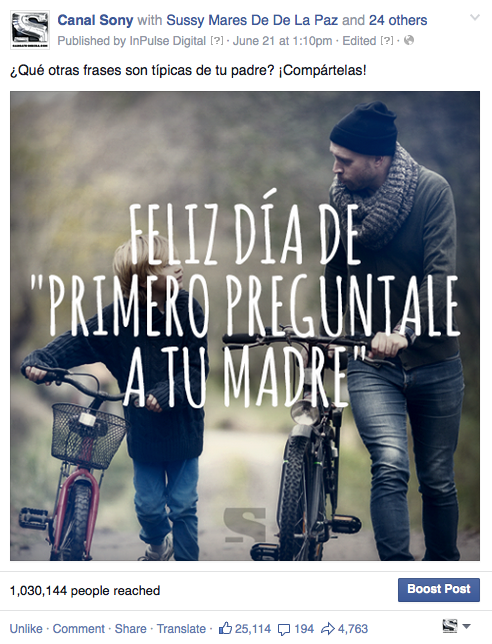 1 - Donald Trump against the world on E! Online
After the controversial statements from candidate for the US Presidency, Donald J. Trump, celebrities responded in a variety of different ways. In this particular case was Latin singer J Balvin's reaction which got our attention. The #1 post of the month goes to E! Online taking sides with the article empathizing with their Latin audience. The perfect timing made the post blend with Donald Trump as a trending topic at that time.